SAP HANA
Run the business data platform for the intelligent enterprise on any cloud
The Business Data Platform
Run the business data platform for the intelligent enterprise on any cloud or on-premise to act with live intelligence, modernize for agility and scale cost-effectively.
Harness the power of your data and accelerate trusted outcome-driven innovation by developing intelligent and live solutions for real-time decisions and actions on a single data copy. Support next-generation transactional and analytical processing with a broad set of advanced analytics – run securely across hybrid and multicloud environments
Cloud, on-premise, and hybrid deployments
Secure, future-ready in-memory data platform
Live intelligence with fast data processing
Broadest Advanced analytics with combined OLAP and OLTP processing on a single data copy
Transform Database Management
Simplify operations using a single copy of enterprise data and a secure modern data platform.
Process transactions and analytics data wherever it resides using data virtualisation, integration or replication.
Leverage Advanced Analytics
Leverage advanced data processing engines for business, text, spatial, graph and series data.
Develop Next-Generation Applications
Leverage hybrid transactional and analytical processing capabilities to build next generation applications.
Product Structure
SAP HANA is a business data platform that processes transactions and analytics at the same time on any data type, with built-in advanced analytics and multi-model data processing engines that can be leveraged to develop next-generation applications for the intelligent enterprise.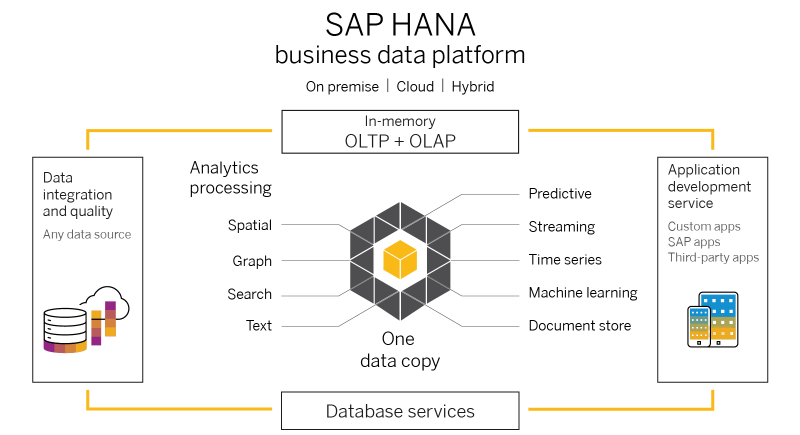 Let Us Connect and Collaborate